Because building up a Jeep often means the addition of new accessories such as driving lights, rock lights, air compressors, lockers, winches and just about anything that might need power, a means to operate them all has typically been a part of the build or at least, up until now. Unlike previous Jeeps where the only real way to manage your accessories was to buy an aftermarket switch pod system, the all new JL Wrangler can now be had with an optional auxiliary switch system and right from the factory. With switches located in the lower bank of the instrument panel, you can now operate up to 4 devices and you can even configure them to be latching or momentary, powered by battery or by ignition and even have them hold last state across key cycles.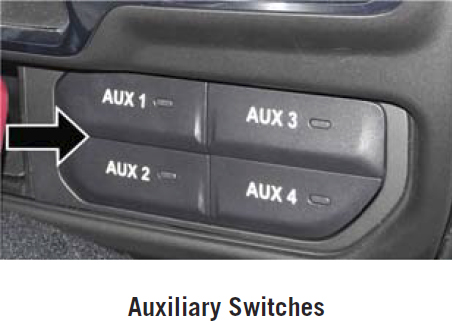 The JL Wrangler auxiliary switches are connected to a main relay module located under the hood and it comes ready to be connected to with 4 blunt cut wires, a fused battery wire and an ignition wire, all of which extend from the passenger side outboard foot well.


And, if all that weren't enough, Jeep even goes so far as to provide a small kit containing splices and heat shrink tubes to help make the installation of your electrical accessories that much easier. Of course, configuring your switches is as easy as accessing your Uconnect settings.